Investor Overview
CORPORATE PROFILE
MiMedx® is the leading biopharmaceutical company developing and marketing regenerative and therapeutic biologics utilizing human placental tissue allografts with patent-protected processes for multiple sectors of healthcare. "Innovations in Regenerative Biomaterials" is the framework behind our mission to give physicians products and tissues to help the body heal itself.
We process human placental tissue utilizing our proprietary PURION® Process methodology, among other processes, to produce safe and effective allografts by employing aseptic processing techniques in addition to terminal sterilization. We dry preserves human amniotic membrane tissue, resulting in minimally manipulated tissue products that address numerous serious unmet medical needs requiring tissue regeneration or healing inside and outside the body.
MiMedx has supplied over 1 Million placental tissue-based allografts to date for application in the Wound Care, Burn, Surgical, Orthopedic, Spine, Sports Medicine, Ophthalmic and Dental sectors of healthcare. Our patent-protected PURION® Process is the foundation of our AmnioFix® and EpiFix® products that serve to regenerate damaged or diseased tissues by delivering human extracellular matrix components, essential growth factors, and specialized mediating cytokines. AmnioFix®, EpiFix® and AmnioFill™ modulate inflammation, reduce scar tissue formation, and enhance healing.
Additional MiMedx products include: EpiCord® and AmnioCord®, derived from the umbilical cord; OrthoFlo, an amniotic fluid derived allograft; CollaFix™, our collagen fiber technology, developed with our patented cross-linking polymers, designed to mimic the natural composition, structure and mechanical properties of musculoskeletal tissues in order to augment their repair. 
MIMEDX GROUP INC (Common Stock)

Exchange

(US Dollar)

Price

Change

(%)

Volume

Data as of 05/28/18 1:28 AM EDT

Copyright Nasdaq. Minimum 15 minutes delayed.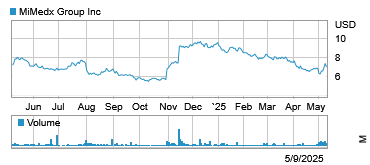 Copyright Thomson Reuters Corporation